James Ryan
Senior Consultant
Jim has 35 years of professional, executive management, and consulting experience in the information technology and financial services industries.

Prior to joining Harris Search Associates, an IIC Partners member firm, he spent 10 years as an independent management consultant specializing in international business development. Jim successfully assisted the senior management of U.S. and overseas companies in developing cross-cultural business relationships. U.S. clients included America Online, CompuServe Incorporated, and Prodigy Internet Services. Overseas clients have included Fujitsu Ltd. and Nissho Iwai of Japan and several European, Middle Eastern, and Latin American organizations.

Prior to his management-consulting career, Jim spent 11 years at CompuServe Incorporated in Columbus, Ohio where he served as Director of International Development for seven years with responsibility for developing and managing all of the company's international business. He successfully developed business relationships on five continents establishing CompuServe as a true multi-national company. Prior to his international role, Jim served as Director of Sales for CompuServe's Information Services Division.

Prior to moving to Columbus in 1983, Jim lived and worked in Chicago, San Francisco, and Cleveland. He holds a Bachelor of Science degree from the Illinois Institute of Technology.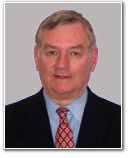 Harris Search Associates - an IIC Partners member firm, is a leading global higher education executive search and board advisory consulting firm with 44 offices in 33 countries worldwide. Our higher education executive search practice is focused on identifying and attracting leaders to support the growth of clients in the areas of research, science, engineering, academic medicine, and healthcare enterprises. Clients include the foremost universities, research parks, institutes, academic medical centers, and healthcare organizations driving global innovation and discovery.